Skip to end of metadata
Go to start of metadata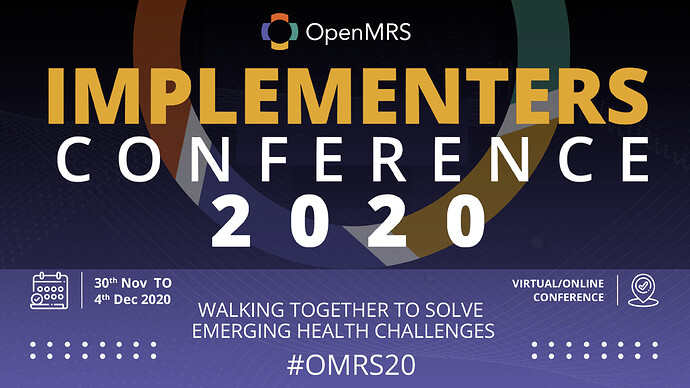 If you want to go fast, go alone. If you want to go far, go together.
30th November - 4th December 2020
The 2020 Implementers Meeting celebrated and explored how we come together as a community to respond to new and existing health challenges faced by people worldwide.
ABOUT THE EVENT
The OpenMRS Community gathered virtually for our 2020 Implementer's Meeting.
OpenMRS community members who usually travel to our host-country might suffer from jet lag. With a virtual conference, we're working on a schedule that accommodates most time zones - without any need to suffer from "virtual jet lag!" Conference days will begin at 1pm UTC and the last session will end at 6pm UTC.
Unconferencing Overview + Topic Proposal Sessions
We use an unconferencing format, which means the people attending the conference determine the session topics. There are two ways to propose an unconferencing session topic:
Brainstorm OMRS20 Virtual Unconferencing Session Topics on Talk by Monday, 30 November.
Attend one of the following live sessions to present your proposal:
Monday, 23 November at 10:30pm IST | 8pm Nairobi | 7pm Cape Town | 5pm UTC | 12pm Boston | 9am Seattle
Monday, 30 November at 8:00pm IST | 5:30pm Nairobi | 4:30pm Cape Town | 2:30pm UTC | 9:30am Boston | 6:30am Seattle
Opening Plenary
Making Cross-Border Collaboration Happen
Monday, 30 November at 7pm IST | 4:30pm Nairobi | 3:30pm Cape Town | 2:30pm Geneva| 1:30pm UTC | 8:30am Boston | 5:30am Seattle
Annual Squad Showcases
Find out what our squads have been building this year!
Tuesday, 1 December at 6:45pm IST | 4:15pm Nairobi | 3:15pm Cape Town | 2:15pm Geneva| 1:15pm UTC | 8:15am Boston | 5:15am Seattle
Wednesday, 2 December at 8:30pm IST | 6pm Nairobi | 5pm Cape Town | 3pm UTC | 10am Boston | 7am Seattle
Virtual Site Visit
TBD
REGISTRATIONS
This year, we're moving OMRS20 to a virtual conference format.
There are still some costs associated with hosting a virtual conference, such as planning services, conference platform, etc. This year's budget comes to ~$16k. This year, we don't have any set registration fees. To remain cost-neutral, we're asking that everyone who registers to pay what they wish. This means that you can pay as little or as much as you want. If you can't pay anything right now, that's fine - you are more than welcome! If you can pay something, we really appreciate it as it will help us cover our costs (mainly related to conference planning and logistics).
Whether you pay or not, we still need you to complete a registration form so that we can send you a meeting invitation with conferencing information.
SWAG
OMRS20 t-shirts are available! For $20, you can order your t-shirt and we'll make arrangements to ship it to you. Please note that your t-shirt may not arrive before OMRS20 begins.
SOCIAL NETWORKING
If you are attending OMRS20 or wish you could but cannot and want to keep in touch with people at the conference:
Twitter
Facebook
Email Update List
Details about the meeting are being sorted out and will be added to this page as they are confirmed. 
Copyright © 2004-2016 OpenMRS Inc. By using this site, you agree to the OpenMRS Privacy Policy
.
Text is available under the Creative Commons 4.0 International Attribution License (CC BY 4.0)
.
Software is available under the Mozilla Public License 2.0 with Healthcare Disclaimer (MPL 2.0 HD)
.
"OpenMRS" is a registered trademark and the OpenMRS graphic logo is a trademark of OpenMRS Inc.